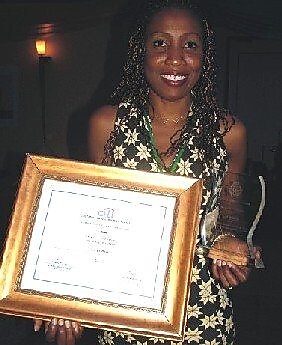 Ngozi Nwankwo Birisibe, GIA Bridals
For young talented Ngozi Nwankwo Birisibe, a Medical laboratory Science graduate of Rivers State University of Science and Technology, dressmaking began as a hobby at an early age. As a child, Ngozi started out cutting paper patterns. She taught herself to sew by putting apart her mother's old cloths (to see how it was sewn) and reproducing them using materials she saved up pocket money to buy. She did this the good old-fashioned way – with a needle and thread! 
When her grandmother gave her an old manual sewing machine, the entrepreneur in her found opportunity in this hobby. She set to work making dresses for sale. She busied herself with this during school holidays in the university and sold them as ready-made clothes when school resumed. No one knew she made them herself. 

Her great aspiration however was to make wedding dresses; to own an outfit that one can walk into and pick things off the rack or order; a tall dream no doubt! She had taken a stock of what was obtainable in the market and felt sure that she could do better for less. The only snag however was that no one took her seriously enough to give her a chance - a very frustrating turn of events. This however did not deter her. With the money she saved from her sales in school, she set out making samples. Her first attempt was in her own words, 'a flop!', but she didn't give up.Her next try was successful, and would set her on the path of self-actualization. It was at this point that she saw LiveWIRE's Nigeria Young Business Leaders Award advert. She was expectedly excited – at the very least winning the award would give her the much longed-for exposure, and possibly the capital to realize her dream. In spite of protests from her family, she took out her entire savings from her post graduation national service year and set to work making more samples using local traditional fabrics to showcase her work for the award. By this time, she had registered her business as GIA Bridals with the Corporate Affairs Commission. Her investment paid off and the rest is history.

Winning the award not only got her the exposure she sought, it also boosted her confidence greatly. With the N100,000.00 she got as prize money, she bought herself a mannequin to display samples of her work in shops, bought more fabrics and printed out publicity fliers to boost sales. Two years later, the business's turnover grew from the modest Fifty Thousand Naira per annum it was making in 2003 to Six Hundred Thousand Naira per annum. Her grand mother's manual sewing machine has off course been replaced by 3 electric sewing machines. She has gained recognition in the market and her dresses now carry her label, which is fast becoming a known brand in fashion circles. Now she's actively gunning for the international market with no intentions of stopping until she not only breaks in, but also becomes a force to be reckoned with internationally.

Ngozi was a recipient of the 2007 Central Bank of Nigeria's "Young Entrepreneur of the Year" Award, another feather to her cap!